<!- ************************************************************ INSERT THE WORD DEFINITION BETWEEN THIS *************************************************************-->
Liminality (1884, a rare word from L. lïmen, meaning "a threshold") is a psychological, neurological, or metaphysical subjective state, conscious or unconscious, of being on the "threshold" of or between two different existential planes. It is the space between, the state of being neither-this-nor-that, betwixt and between, neither me nor not me.
It is "transitionality", "becomingness", "borderland".
It is not yet recognized by the OED. Of interest are several related words:
Preliminary (1650s, from Fr. préliminaire or M.L. praeliminaris, from L. prae- "before", see pre- + limen [gen. liminis]) "threshold." A word that arose in reference to negotiations to end the Thirty Years' War.
Subliminal (1886, "below the threshold" - of consciousness, formed from sub "below" + L. limen [gen. liminis]) &lduo;threshold." The scare over subliminal advertising came in 1957.
Eliminate (1560s, from L. eliminatus, pp. of eliminare) "thrust out of doors, expel," from ex limine "off the threshold,"
Limit (n., late 14c., "boundary, frontier," from O.Fr. limite "a boundary," from L. limitem [nom. limes]) "a boundary, embankment between fields, border," related to limen "threshold." Colloquial sense of "the very extreme, the greatest degree imaginable" is from 1904.
The term liminality was originally developed by van Gennep (and later Turner) to "refer to in-between situations and conditions that are characterized by the dislocation of established structures, the reversal of hierarchies, and uncertainty regarding the continuity of tradition and future outcomes." In his 1909 Rites de Passage, van Gennep distinguished between those that result in a change of status for an individual or social group, and those that signify transitions in the passage of time (rites of passage). He claimed "such rituals marking, helping, or celebrating individual or collective passages through the cycle of life or of nature exist in every culture, and share a specific three-fold sequential structure".
Expand
<!- ************************************************************ AND THIS! *************************************************************-->

Terri Witek
View Statement
For the website, I thought I'd send on the first page of my new book, Exit Island, due out in January. Ariadne is a liminal character in a liminal space—she's a myth stranded on an island alone with the poetry of Fernando Pessoa. What kind of place is this condition? "Pessoa" means person in his half-understood language. Should she wake up and become one?
~
I wake on an island. The ship has dropped me here–I can still feel it tugging at the edges of sleep, gray and grainy with rain.
Here is what I was told on the ship:
1. Do your arguing on deck.
2. Thefts are rare.
3.Find out how a windlass works: some day you'll have to get that anchor up or down.
But now I am disembarked. The word shudders over the one who has lost her ship with its strange wooden skin. Or the word could be "desemboca," Portuguese ordering river down into the sea. But I am sleeping, not a native speaker, and things are changed by island ears. I hear "disse sem boca"—speak without a mouth, or maybe "alem da boca": beyond the mouth. The book on my chest, turned down on my chest, still rises and falls. "Basta-me que me basta"—enough is enough.

Brian Torff
View Statement
I will be speaking about liminality as it relates to musical style, people, and geography. The two original musical selections I will be performing will be examples in sound of the 'in between' spaces that exist in music.

Jo Yarrington
View Statement
I've always been interested in liminal places, areas of the mind or reality that blur definition, that exist somewhere in between. When first reading Swann's Way, I instantly identified with Proust's ruminations on the space between sleeping and waking. Suspended in that glide from consciousness to unconsciousness, he seemed to find a threshold to unfettered freedom and clarity. In Brontë's Villette, when faced with the harsh realities and social restrictions of Victorian England, Lucy Snow could slip into her shadowland, an interior place of refuge and boundless possibilities. And, in Atonement, McEwan spoke to the fertile pause between stillness and motion when he wrote "the mystery was in the instant before it moved, the dividing moment between moving and nonmoving, when her intention took effect." It is these elusive, shifting planes, these fluctuations in our psychic core and physical being, these changeable and charged arenas that I explore in my visual art.
Advising artists support and help guide the growth and outreach of the Evolve the Conversation experience. Guest artists are present at our salons. Both are invited to provide statements on the topic.
Liminality Video
Select a video and click to view. There are currently 9 videos available for Liminality.
»
«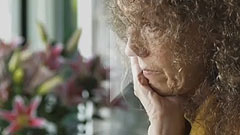 On the Space Between | Terri Witek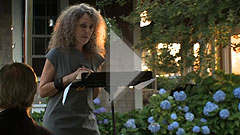 Two Threads on Facebook | Terri Witek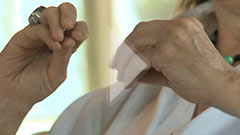 On Translating | Jo Yarrington
Liminality Images
The Conversation should continue to Evolve and we hope you'll join us here by sharing your thoughts, emotions and words on the right. You can also help us spread the word by choosing to post your thought on Facebook, allowing your friends access to the Evolve the Conversation website.